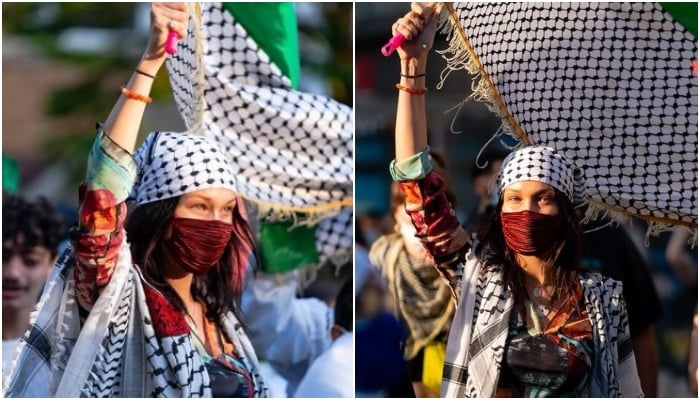 Palestinian-Dutch model Bella Hadid marched for Palestine in New York City on Saturday against the Israeli occupation and the airstrikes that have killed scores in her country of origin. After the march, the Israeli Twitter account slammed the supermodel saying her advocacy amounted to calling for the "elimination of the Jewish state.
"When celebrities like @BellaHadid advocate for throwing Jews into the sea, they are advocating for the elimination of the Jewish State. This shouldn't be an Israeli-Palestinian issue. This should be a human issue. Shame on you. #IsraelUnderAttack."
The tweet also had a screengrab of the live Instagram feed that Hadid had shared of the protest wearing a traditional dress- a Keffiyeh and a face mask. Hadid's father Mohamed Hadid who is Palestinian was seen in videos on social media on Saturday marching with thousands at the demonstration even as conflicts continue between Israel and Hamas.
Earlier both Bella and her sister Gigi had shared tweets in support of Palestine.
"You cannot allow yourself to be desensitized to watching human life being taken. You just can't. Palestinian lives are the lives that will help change the world. And they are being taken from us by the second. #FreePalestine." 
She and her sister Gigi have been actively using their social media channels to show support for Palestine and urging others to help while criticizing the US government for extending military aid to Israel which is being used to kill innocent civilians.